Go Beyond The Tarot Card Meanings
Did you know that memorising more card meanings is NOT the key to accurate Tarot readings? There's better ways to advance your Tarot which nobody is telling you about…
Do you wish you could:
- Interpret Tarot cards without wasting your life (and mobile data) Googling Tarot card meanings?
- Get more detail in your Tarot readings without trying to memorise what every card means in every position imaginable?
- Enroll in a Tarot training and achieve results without spending another dime on Tarot books which always only ever cover the basics? Or crap which you're unsure has anything to actually do with Tarot? (And the reviews looked so promising)…..
My name is Lisa Boswell and I have been reading Tarot for pretty much my entire life. I spent the first 10 years of my Tarot journey with only one small book and my intuition as my guide (no online Tarot reading courses back in my day ha)
As I got older and more experienced, I really wanted to advance my Tarot. I skipped down to WHSmith (the UK's equivalent of Barnes and Noble) and purchased a few Tarot books. I raced home, excited at the possibility of making wonderful predictions about marriage, births, death and everything in-between. I imagined those books would contain everything I needed to know about developing my Tarot skills and getting more detail in my Tarot readings.
When I got home, I ran into my bedroom, jumped on my bed and pulled the books out of my bag. Then, the bubble burst. These books didn't contain the information I was looking for. So, I went online and ordered more books. And more books. Suddenly my shelves were lined with tones of Tarot titles but not one gave me what I desperately craved. They always:
- Were too beginner. I knew the basics. I knew how to select a Tarot deck, the structure of Tarot and the difference between the Major and Minor Arcana.
- Contained too many meanings. There were cards here and there I had blocks with, but the last thing I needed was more meanings to confuse me further.
- Focused too much on the non-practical. Sure, it's okay to know that The Emperor corresponds to Aries and you can fit the Majors on the Tree of Life, but not one Tarot book I ever got my hands on could explain what the hell any of that had to do with REAL readings.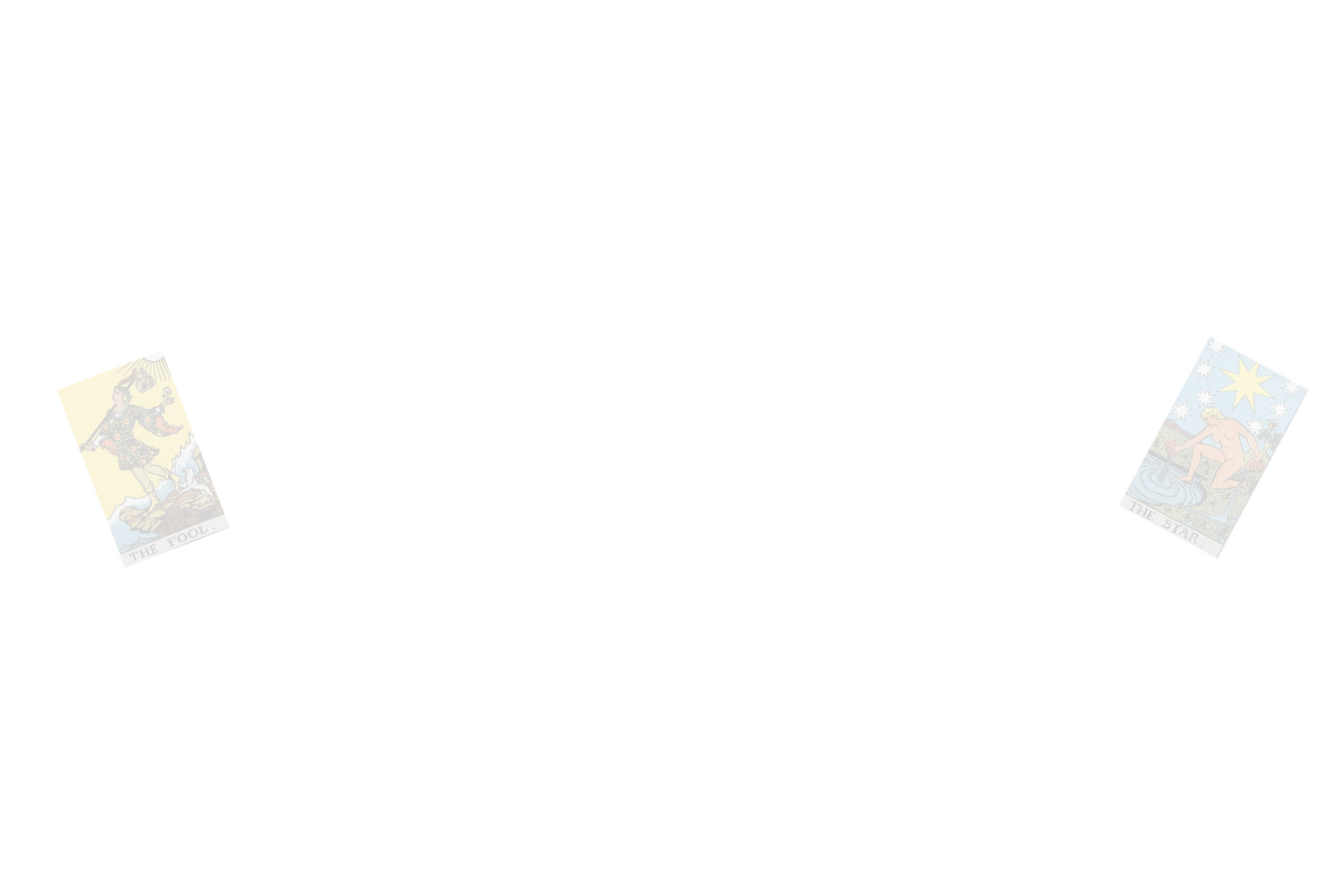 What did I do?
Over the years, I began to dissect my readings. I formulated how I was getting more detail in certain readings and not in others. I designed a blueprint for reading Court Cards, timing with Tarot and interpreting cards in different spread positions.
However, it took me a very long time to naturally advance my Tarot reading skills. I had to perform thousands of readings, work professionally, record my readings, read for fun and revolve my life around divination. If you teach yourself, you learn the hard way.
I don't want you to learn the hard way, waste your money on crappy Tarot books or give up on your dreams of advancing your Tarot reading skills. You don't need the long hard way, you need proven methods, roadmaps and blueprints.
Introducing Tarot Techniques …..
The 10 week Online Tarot Course Which Will Turn You From A Meanings Memoriser Into A Reading Interpreter
You'll get new content, every week!
Tarot Techniques is an online 10 week Tarot course which I have designed to push you past the basics of Tarot. Every week, we will cover a new Tarot topic which will get you reading Tarot with confidence.
This 10 week training can be accessed on mobile, tablet and computer and covers everything you need to develop your reading skills including:
Week One: Mastering Difficult Meanings - No matter how good you are at Tarot, there are always those one or two cards that you cannot master. In this part of the course, we will look at techniques for overcoming 'meanings block' and get you reading that card once and for all.
Week Two: Spreads - During week two, you'll learn all about designing your own spreads and reading spread free. Plus, you'll also receive two bonus e-books; the Tarot Spreads for Life and The Tarot Spread Blueprints.
Week Three: Reading Different Spread Positions - Week three will see you learning how to interpret cards in seven of the most popular spread positions including the future, intentions, positives and more!
Week Four: Reading Court Cards - Stop praying that Court Cards won't show up! Interpret them effortlessly even if you only pull Courts for a reluctant seeker, who doesn't have (or refuses to share) their question!
Week Five: Reading Relationship Dynamics - Confused about relationship readings? In particular the 'people' cards? Fear no more! After taking this section, you'll read relationships with confidence.
Week Six: One Card, More Detail - Instead of scrapping a confusing reading, use crossing, covering, crowning to dissect tricky placements.
Week Seven: Significators - You'll become an expert at not only selecting significators, but you'll learn how to set the past, future and intentions using them.
Week Eight: Timing Techniques - Discover traditional timing methods and learn why 99% of the time they do not work! I'll show you how to time using Tarot and your own personal experience.
Week Nine: Special Circumstances - You'll no longer wonder what it means when 4 Aces show up, or only Majors appear in a reading. Once taking this module, special circumstances will no longer catch you off guard.
Week Ten: Yes or No Techniques - In the final week you will put everything together which you have learned and discover how you can yes or no with clarity without second guessing yourself or Googling Tarot interpretations.
If you learn Tarot from me, you're in safe hands! You'll join my divination school where I have taught, literally, hundreds of students in the last few years. Divination & Fortune-Telling is the place to improve your reading skills. My website alone is a trusted resource where over 100,000 diviners come each month to troubleshoot their Tarot, Lenormand and fortune-telling issues.
Teaching divination is my full-time career and I don't just blow my own horn. I've been awarded for my work with Tarot and appeared in media all over the world:
- In 2014 I was award Young Tarosophist of the Year Award by The Tarosophist Tarot Association.
- I once worked for SKY TV giving live readings for members of the public.
- My website Divination & Fortune-Telling is one of the top spirituality websites online and one of the top half a million websites in the world for traffic. People come here because they know what I teach makes sense.
Plus, unlike other online Tarot teachers, I don't teach bull shit you won't actually use. I won't waste your time with nonsense. I only teach how to perform real readings for real people and focus on practical application. If you can't apply it in real life to Cheryl across the road, you're not learning it from me.
*Bonuses*
If you join Tarot Techniques, you get all of the modules outlined above, lifetime access, future updates, the early bird pricing PLUS these bonus trainings:
Spread Vault
Video walkthroughs of all spreads used in this course so you can perform these exact readings for yourself.
Prophet Promotion
For professional Tarot readers (or those ready to go pro) learn how to promote and market your reading services.
CELTIC Cross Training
Read the Celtic Cross spread as it was outlined in 1911. Wonder no more which spread position goes where!
course will only be open for enrolment for less than one week
The 10 Week Tarot Techniques Online Course which gives you step-by-step methods for levelling up your Tarot card readings.

Video walkthroughs of Tarot card spreads you can use for any circumstance.

The ultimate Celtic Cross Training detailing the correct way to read the Celtic Cross according to 100 year old sources.

The Prophet Promotion Formula. An hour long presentation created to get you selling and promoting your Tarot card readings.

Lifetime access.

Any future updates.
Mailed Certificate
Upon successful completion of the course, you will receive your Tarot Techniques certificate mailed to your home. You'll also be emailed an electronic copy for your website.
FACEBOOK Group
Join us in the members only Facebook group where you can get support, test your knowledge and ask questions. Once the course is over, the group will stay open!
Chance to Win
Not only will you learn lots with Tarot Techniques, but each week you will have the opportunity to take part in competitions where you can win Tarot decks, bags, books and more!
Tarot Techniques will be the best investment you have ever made in your Tarot reading practice. However, Don't just Take my Word for it, here is some student feedback:
"I would highly recommend the Tarot Techniques Class from Lisa - the content is incredibly thorough, well laid out and helps one gain a profound understanding of the cards both intuitively and historically. I graduated this class, no longer worried about court cards showing up in a reading and feeling empowered with numerous spreads and insights about the cards that I have since put into play in my own tarot reading business. This has been the best class I have ever had the honor to take concerning tarot. Take it! You will do yourself a huge favor." - Ash-Lee at Moon Zoul Magic
This Course is for you….
- Even if you have read 1 million buzilion Tarot books, I can guarantee you'll learn something new.
- Even if you're a slow learner. You can learn at your own pace, and take the course as many times as you want (you get lifetime access PLUS all future updates).
- Even if you're not tech savvy. Enrolling and completing the modules is as easy as one, two three. Just sign up, watch the videos, try the exercises, rinse, repeat. You can even reset your own password and log in from this website's main navigation menu.
- Even if your Tarot readings are shit. Seriously, this will improve your Tarot readings.
Some FAQs!
"When will i get access?"
Upon enrolment you will get instant access to The Tarot Spread Vault, The Prophet Promotion Formula and Celtic Cross Training (the bonuses). Then, new content will be dripped in the course hosting platform every week, every Monday starting June the 3rd.
"How will I Access the Course Content?"
The course content is dripped weekly into the course hosting platform. You will gain access to the platform after you sign up for the course. If you wish to log out, you can log back in using the 'log in' link at the bottom of this website (Divination & Fortune-Telling). You can even access your online course content through the Teachable app!
"How much does this training cost?"
Your investment into your Tarot journey is only one payment $295 (if paid in full) or 6x monthly payments of $50 (if paid in instalments).
"I consider myself an advanced reader, how will this course help?"
Been reading for a very long time? Think you're already an advanced reader? That's great! I'm certain the topics within Tarot Techniques will propel you to the next level! But if you're still apprehensive, you have 14 days to try the course and if you're not satisfied I'll refund you 100%.
"I am an intuitive reader, is taking this course worth my time?"
Me too! I work with spirits and consider myself 'psychic'. However, this isn't a psychic development course, it's a course which is designed to get you noticing patterns in cards and using advanced Tarot techniques.
I use my intuition to help guide me on which techniques to deploy at which time. So, sometimes I might take special number combinations to be significant, something I won't. Sometimes I will feel like proportions play a role, sometimes I won't. Sometimes I read all Pages and Knights to be people outside of a relationship, sometimes I won't. This course focuses on the techniques so that you have them in your Tarot arsenal for when your intuition calls for them ;)
Will this course teach me about Astrology and The Kabbalah?
Nope, its not that type of course. I only focus on teaching the types of things you can use in standard, every day readings. I will lightly cover Tarot and Astrologer so that you can apply it to timing (if you wish) but if you're looking for in-dept Astrology and Kabbalah stuff, this isn't the course for you.
"Can't I learn this Stuff from Books or Google?"
I can bet you all of my Tarot decks you fall into one of the following:
1. You have more Tarot books than you would like to admit. And not one has ever taught you how to advance your Tarot despite all the raving reviews. Plus, those $15/£15 here and there on Tarot books have certainly added up...
2. You have Googled more Tarot card meanings than you would like to admit. Not one has stuck and that tactic is NOT working for you.
3. You have joined more Facebook groups than you would like to admit. And all you've found is people arguing over stupidness such as reading style and who should use reversals.
If any of these sound like you, it's time to try this online Tarot course.
"Are there any guarantees?"
Yes! I do make guarantees. If you enrol in Tarot Techniques and, if within 14 days of the course beginning (June the 3rd), you realise it's not for you (for whatever reason) you can email me at lisa@divinationandfortunetelling.com and I'll happily refund your money ASAP.
"Are there payment options?"
Yes! You can pay in monthly instalments.
"in which CURRENCY is the course priced?"
The course is priced in USD.
"Why should I order now?"
The course is only available for enrolment for a limited time; you better be quick!
Plus, how many times have you promised yourself that this time you'll advance your Tarot? You've read all the books, probably even took a course or joined Facebook groups and you're still no further forward. Time is slowly ticking by anyway, you may as well develop your Tarot reading skills.
Tarot Techniques will open in 2020. Sign up below to register your interest: